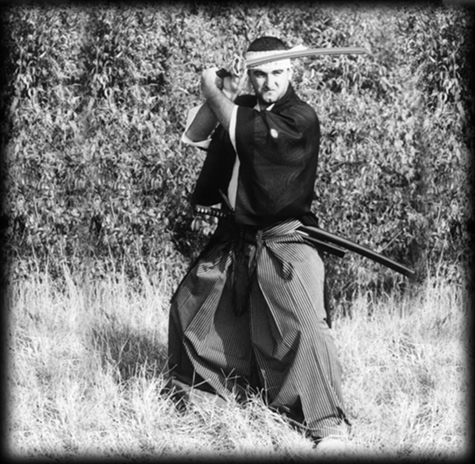 Shihan Ozon Karyu
Carrier
- 1986 – begins practicing Judo with a student of the oldest Romanian Judo/Jujutsu master alive, Florian Frazzei
- 1987 – begins practicing Karate with his third cousin, Zauleanu George
- 1991 – begins practicing Ninjutsu (the art of the ninja warriors)
- 1992 – begins practicing Kendo-Kenjutsu/Iaido-Iaijutsu with the spiritual father of Japanese sword teaching in Romania, master Kanji Tsushima
- in 1992 starts teaching Karate
- in 1994 starts teaching Kendo
- in 1995 he officially opened the first Ninjutsu dojo in Bucharest / starts teaching Ninjutsu
- in 1994 he becomes an official national Kendo referee
- in 1995 he becomes an editor for the "Arte Martiale" ("Martial Arts") magazine
- 1996-1997 he is a physical training instructor for D.I.A.S. (The Police Department for Intervention and Special Actions)
- 1997 – receives the license for qualified martial arts trainers issued by the Ministry of Youth and Sports
- 1997 – becomes an honorary member of Romanian Aikido Union
- in 1998 he becomes the first Menkyo Kaiden master (the total transmission level of a martial arts school under the form of a manuscript) in Romania, title awarded by the grandmaster (Soke) Takashi Ono
- in 1999 he becomes the student of grandmaster Shoto Tanemura, the president of G.W.N.B.F. (World Ninjutsu Federation) and of it's European Center Chief, master Guy Aerts, who is an ex-Green Beret, with this occasion the Genbukan Romania association is created (internationally known under the name Karyukai International, having branches in Belgium, Italy, Ukraine, U.S.A., Great Britain, Spain) who's president he remains to present day
- 1999 – Romanian representative of the World Ninpo Bugei Federation and of Kokusai Jujutsu Renmei (International Jujutsu Federation), school leader (Shibu-Cho), the single Romanian representative with a Japanese license from the World Ninpo-Ninjutsu Federation authorized to teach the art of the Ninja warriors in Romania; Romanian representative for A.P.S.A. International (Association for Professional Security Advisers), licensed as an expert in Close Combat
- 2000-2002 – Specialist adviser for the TV show "Arta Apararii" ("The art of defence") broadcasted on the TVR2 channel, produced by Bogdan Serban-Iancu
- 2003 – Fight choreographer and stunt double for the lead actor in the movie "Never Enough" starring Rutger Hauer as lead role
- 2004-2005 – Producer of the "National Kombat" TV show on the National TV channel
- 2004 – Collaboration with AXN/HBO for the promotion of the TV series "The Shield"
- 2005 – lead actor in the music video by Bogdan Albu for the song "Cat imi lipsesti" ("How much I miss you") belonging to the artist Gia
- 2006 – consultant for the International Martial Arts Alliance
- 2006 – Invited to demonstrate with the occasion of Steven Seagal's 55th birthday celebrated in Romania
- 2006 – Actor in the historical documentary "Razboiul Umbrelor" ("War of the shadows") by B.S. Iancu, aired on TVR1 network
- 2006 – C.V. in the Encyclopedia of Romanian Personalities – Who is who (member)
- 2007 – lead actor in Bogdan Albu's music video for Corina's song "Overdrive", fight choreographer and author of the kendo scenes in the music video "Inima mea" ("My heart"), song by Alexandra Ungureanu & Crush
-2008 - invited by Shihan Kasuya Hitoshi sensei to execute a japanese traditional martial arts demonstration at the opening of the 6-th European Karate Championship (W.S.K.F.)
- 2008 - invited in Japan as International Referee to represent Romania at The 34-th World Sport Chanbara Championship
- 2009 - invited by Dragos Chiric Sensei, Chief Instructor of Seibukan Dojo, to demonstrate in front of 11-th Soke of Hyoho Niten Ichi Ryu Kenjutsu, Iwami Toshio Harukatsu Shihan
- 2009 - special guest of Sato Kinbei Sensei`s family at the 74-th Nihon Kobudo Taikai of traditional martial arts organized by Nihon Kobudo Shinkyokai
- 2009 - invited in Japan as International Referee to represent Romania at The 34-th World Sport Chanbara Championship
- 2009 - special guest of Romania's most renowned, awarded and active fashion designer Catalin Botezatu at Bucharest Fashion Week, to demonstrate sword techniques in his collection "Last Samurai".

Owner of the first private martial arts dojo (training room) in Romania, Ninbukan Dojo;
Occasional bodyguard (Close Protection Officer – C.P.O.) for private VIPs.

Telecasts (shows, interviews or TV journals) on: TVR, PRO TV, ACASA TV, ANTENA 1, ANTENA 2, PRIMA TV, B1TV, TELE 7 ABC, NATIONAL TV, SENSO TV, OTV, DD TV, TV K Lumea, Euforia Life Style TV, MTV…, beginning 1994 to present.
Special Benchmarks
- 1992 - 3rd place in Kumite at the National Karate Championship
- 1994-1995 – national Kendo teams vice champion
- 1995 – national Kumite Shotokan W.S.K.F. vice champion
- 1996 – participant in the European Karate Cup, second place in the Municipal Karate Championship F.M.K.
- 1997 – 3rd place in teams at the National Kendo Championship, honorary member of the Romanian Aikido Union (now called the Romania Aikido Federation)
- 1998 – National Kendo Champion, member of the national Kendo team at the European Kendo Championship in Basel, Switzerland, invited as an assistant of the grandmaster Ono Takashi to hold a sword seminar (first Ryogen Ryu France Taikai) in Paris and Chartres, France;
- 1999-2000 Ninjutsu demonstrations at the Ministry of Internal Affaires Spring Marathon;
- 2000-2003, 2006 – Romanian representative at the European Ninjutsu Seminar in Belgium
- 2001 – invited to hold a sword seminar (first Ryogen Ryu Greece Taikai) in Athens, Greece, organizes the first Ninja Festival, event televised by the TVR network, organizer of the first International Ninjutsu Seminar in Bucharest having invited grandmaster Shoto Tanemura;
- 2004-2005 – invited to hold training seminars and demonstrations at the "Al. Ioan Cuza" Police Academy;
- 2006 – specially invited by the Martial Arts Alliance as a master, to teach and represent Romania at the International Martial Arts Seminar in Naples, Italy
- 2006 – invited to hold a martial arts seminar (First Ryogen Ryu Italy Taikai) in Cosenza, Italy
- 2007 – invited to hold a martial arts seminar (Second Ryogen Ryu Italy Taikai) in Cosenza, Italy
- 2007 – invited to hold a martial arts seminar (First Ryogen Ryu Belgium Taikai) in Lubbeek, Belgium
- 2008 – invited to hold a martial arts seminar (Third Ryogen Ryu Italy Taikai) in Cosenza, Italy
- 2009 – invited to hold a martial arts seminar (Fourth Ryogen Ryu Italy Taikai) in Cosenza, Italy
- 2010 – invited to hold a martial arts seminar (Fifth Ryogen Ryu Italy Taikai) in Cosenza, Italy
- 2008 – invited to hold a martial arts seminar (First Ryogen Ryu Ukraine Taikai) in Kiev, Ukraine
Publications
Articles in the following publications: Gazeta Sporturilor, Jurnalul National, Evenimentul Zilei, Independentul, Flacăra magazine, Dilema magazine, Olivia magazine, Playboy magazine, Avantaje magazine, Arte Marţiale magazine, Bodyguard magazine, 4WD magazine, Felicia magazine, Aikigoshido Kaishi magazine – France, Monopati magazine – Greece
Ranks / Titles
Currently owning the following ranks/titles:
Mastered Ryu-Ha schools
Ryogen Ryu Heiho Bugei - Shodai Soke
Ryogen Ryu Heiho Kenjutsu (Iaikenpo) - 3-rd Soshi (Menkyo Kaiden Shihan)
Kukishin Ryu Hyoho (Sogo) Bujutsu - 25-th So-shihan (Menkyo Kaiden Shihan)
Hontai Yoshin Ryu Kukishin Ryu Bujutsu- 17-th Shike (Menkyo Kaiden Shihan)
Ishiguro Ryu Jujutsu - 5-th Shihan-ke (Menkyo Kaiden Shihan)
Muso Jikiden Ryu Eishin Ryu Yawara Kenden - 20-th Shihan (Menkyo Kaiden)

2. Trained / Studied schools

Shinden Fudo Ryu Taijutsu
Asayama Ichiden Ryu Taijutsu
Togakure Ryu Ninpo
Koto ryu Koppojutsu
Gyokko Ryu Kosshijutsu
Takagi Yoshin Ryu Jutaijutsu
Kukishinden Happo Bikenjutsu
Hontai Takagi Yoshin Ryu Jujutsu
Hontai Kukishin Ryu Bujutsu
Yagyu Shingan Ryu Heijutsu
Shindo Muso Ryu Jojutsu
Takeda Ryu Aiki no Jutsu/Iaido/Jodo
Isshin Ryu Kusarigama Jutsu
Muso Shinden Ryu Iaido
Fukkoden Ryu Taijutsu
Uchida Ryu Tanjojutsu
Ono-ha Itto Ryu Kenjutsu
Muso Jikiden Eishin Ryu Iaijutsu
Daiwado
Shotokan/Wado Ryu - Karate Do
Z.N.K.R.Jodo
Aikido
Z.N.K.R. Iaido
Nihon Jujutsu
Kodokan Judo
Z.N.K.R. Kendo
Full-contact / Kick-boxing / All styles
Kyokushin budo Kai
Sports Chanbara
Close-combat (commando martial art)